Welcome to Advanced Integrative Therapy Institute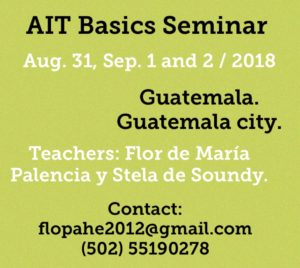 AIT Basics Seminar
Aug. 31, Sep. 1 and 2 / 2018
Guatemala City. Guatemala.
Teachers:  Flor del María Palencia y Stela de Soundy.
Contact: flopahe2012@gmail.com
(502) 55190278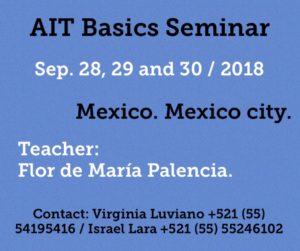 Basics Seminar
Mexico, Mexico City
Sep. 28, 29 and 30 / 2018
Teacher:  Flor de María Palencia
Contact:   flopahe2012@gmail.com 
Virginia Luviano +521 (55) 54195416
Israel Lara +521 (55) 55246102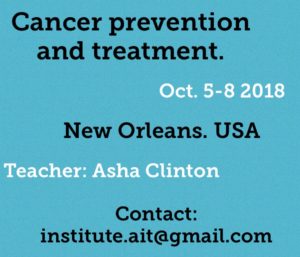 Cancer Prevention and treatment
New Orleans. USA.
Oct. 5, 6, 7 and 8. 2018
Teacher:  Asha Clinton, MSW, PhD.
Contact:   institute.ait@gmail.com
If you are interested in attending this Seminar, 
please CLICK HERE.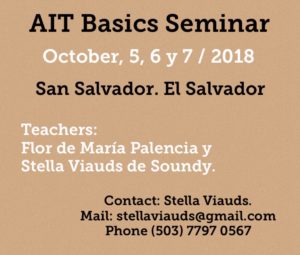 Basics Seminar
San Salvador, El Salvador.
Oct. 5, 6, 7 and 8. 2018
Teachers:  Flor del María Palencia y Stela de Soundy.
Contact: Stella Viauds +503 7797 0567
---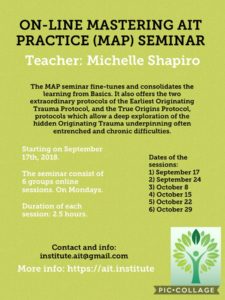 Start on September 2018
ON-LINE MASTERING AIT PRACTICE (MAP) SEMINAR
Michelle Shapiro is offering an on-line MAP seminar. The MAP seminar fine-tunes and consolidates the learning from Basics. It also offers the two extraordinary protocols of the Earliest Originating Trauma Protocol, and the True Origins Protocol, protocols which allow a deep exploration of the hidden Originating Trauma underpinning often entrenched and chronic difficulties. These protocols are a starting place for many of the more advanced AIT seminars. MAP is also the seminar, in supplementation with the Basics and supervision for both, which allows you, dear colleague, to go for the AIT accreditation.
If you are interested in attending this Seminar,  please CLICK HERE.
---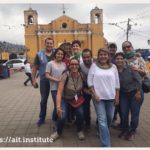 After the tragedy, an exceptional group of AIT Therapists joined together to provide free therapeutic assistance to the deeply traumatized survivors. Every Friday, beginning with the week of the tragedy, this group mobilizes to assist and accompany the survivors of the volcanic eruption.
---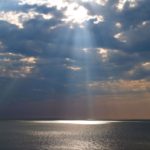 Check out this series of articles written by Asha Clinton, MSW, PhD, and other members of the Advanced Integrative Therapy community. Their purpose is to talk about what's possible in therapy today, and especially in AIT.
AIT RESPONSE TEAM IN ALOTENANGO, GUATEMALA
AITI´s Humanitarian Aid Program aims to provide therapeutic assistance and resolution to communities who have lived through a crisis or natural disaster. Read about the team, actions, objectives, needs and symptoms.
AIT IN GUATEMALA
A group of experienced AIT Therapists, with the help of Caritas foundation started travelling to Alotenango, in Guatemala, to help and support survivors from the volcano tragedy.
You can help. How?
Visit our page in GOFUNDME  and DONATE.
---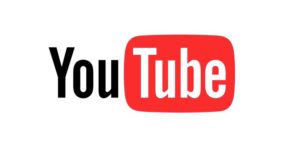 We have a new channel on YOUTUBE.
Follow us and see our videos.
Thank you!  We also are on Facebook, Instagram and Twitter.
---
AITI IN FACEBOOK, INSTAGRAM AND TWITTER
Visit our pages! Follow us and give us some likes.
Thank you!  We are in Facebook, Instragram and Twitter.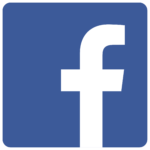 https://www.instagram.com/ait.institute/

https://twitter.com/AITreallyworks
---