Welcome to Advanced Integrative Therapy Institute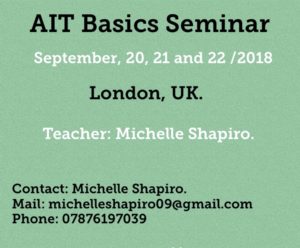 AIT Basics Seminar

London, UK
Sep. 20, 21, and 22, 2018
Teacher:  Michelle Shapiro
Contact:    michelleshapiro09@gmail.com
Phone: 07876197039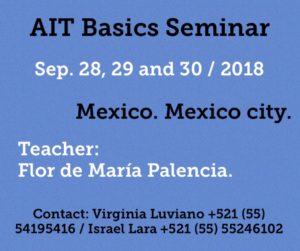 AIT Basics Seminar

Mexico, Mexico City
Sep. 28, 29, and 30, 2018
Teacher:  Flor de María Palencia
Contact:   flopahe2012@gmail.com 
Virginia Luviano +521 (55) 54195416
Israel Lara +521 (55) 55246102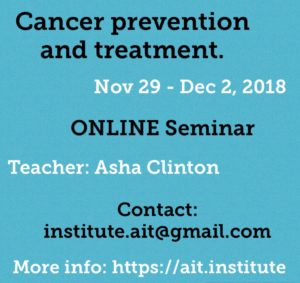 ONLINE SEMINAR
Cancer Prevention and Treatment
Nov 29 – Dec 2, 2018
Teacher:  Asha Clinton, MSW, PhD.
Contact:   institute.ait@gmail.com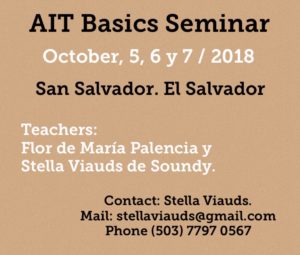 AIT Basics Seminar
San Salvador, El Salvador.
Oct. 5 through 8, 2018
Teachers:  Flor del María Palencia y Stela de Soundy
Contact: Stella Viauds +503 7797 0567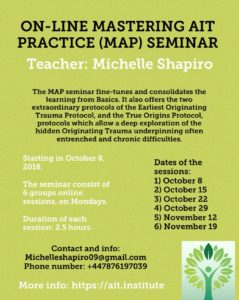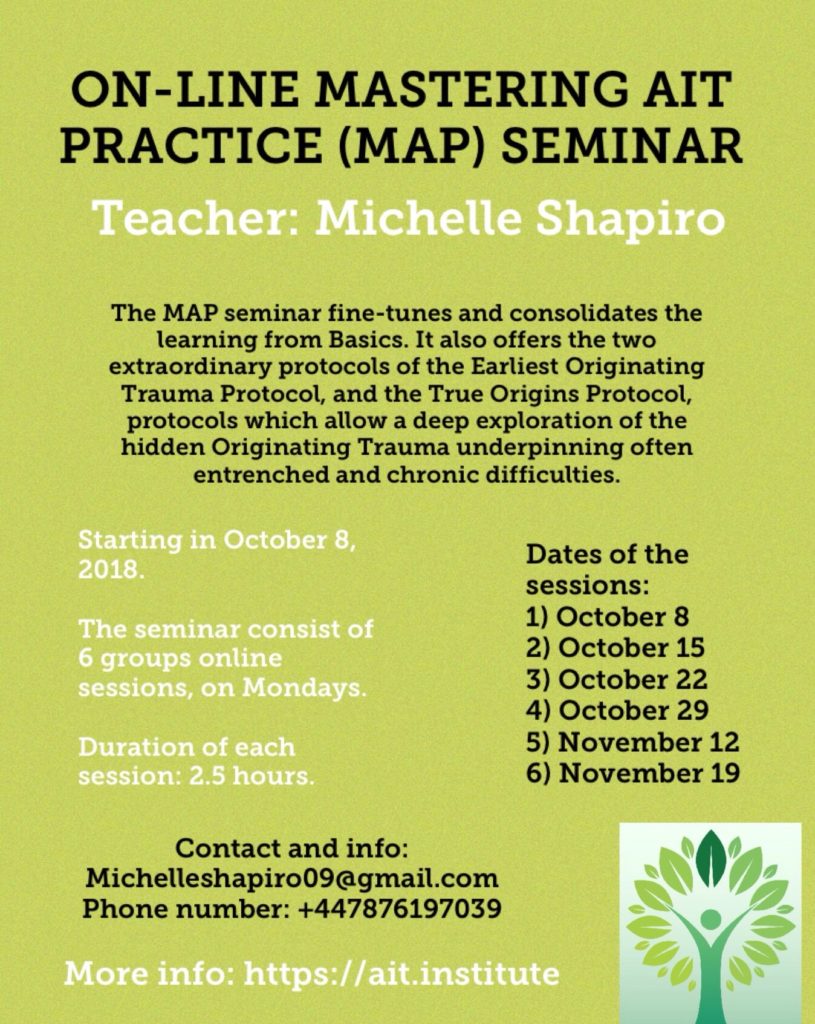 ONLINE MAP Seminar
Start in October 8th, 2018
Teachers:  Michelle Shapiro 
Contact: Michelleshapiro09@gmail.com
Phone Number: +447876197039
---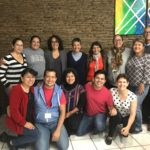 This last weekend, Stella Viaud and Flor Maria Palencia taught the AIT Basics Seminar in Guatemala City. 10 new practitioners are now ready to work with this gentle and wonderful therapy.
---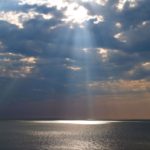 Check out this series of articles written by Asha Clinton, MSW, PhD, and other members of the Advanced Integrative Therapy community. Their purpose is to talk about what's possible in therapy today, and especially in AIT.
AIT RESPONSE TEAM IN ALOTENANGO, GUATEMALA
AITI´s Humanitarian Aid Program aims to provide therapeutic assistance and resolution to communities who have lived through a crisis or natural disaster. Read about the team, actions, objectives, needs and symptoms.
AIT IN GUATEMALA
A group of experienced AIT Therapists, with the help of Caritas foundation started travelling to Alotenango, in Guatemala, to help and support survivors from the volcano tragedy.
You can help. How?
Visit our page in GOFUNDME  and DONATE.
---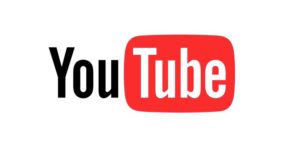 We have a new channel on YOUTUBE.
Follow us and see our videos.
Thank you!  We also are on Facebook, Instagram and Twitter.
---
AITI ON FACEBOOK, INSTAGRAM AND TWITTER
Visit our pages! Follow us and give us some likes.
Thank you!  We are on Facebook, Instagram and Twitter.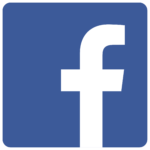 https://www.instagram.com/ait.institute/

https://twitter.com/AITreallyworks
---