Description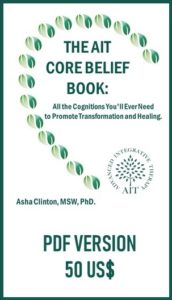 THE AIT CORE BELIEF BOOK: ALL THE COGNITIONS YOU'LL EVER NEED TO PROMOTE TRANSFORMATION AND HEALING 
by Asha Clinton, MSW, PhD. 2018 Edition.
This is not the old Core Belief book that Asha published a few years ago. It's a spanking new updated version that has 119 Core Belief Matrices, a comparison of AIT Core Belief Work and cognitive therapy, the AIT Core Belief Protocol, AIT Core Belief theory, and was just published on October 2, 2018.
Don't know what a Core Belief Matrix is? Please read on.
Price: US$50. Comes as an Email Attachment everywhere.