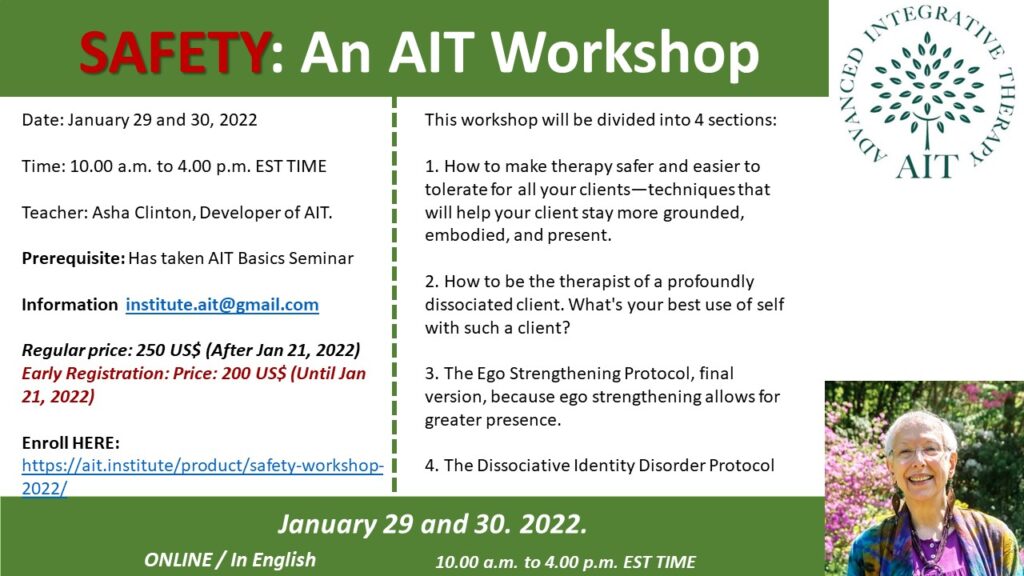 SAFETY: AN AIT WORKSHOP
With Asha Clinton, MSW, PhD, developer of AIT.
After a year and more of pandemic, I kept hearing stories from psychotherapists about clients who became deeply upset in session when they came face to face with their most awful traumas— like the traumas that happened to ICU nurses or Emergency Room doctors trying to save their patients during the pandemic, or like those who are still having serious PTSD reactions to horrendous childhood and adult abuse, or those who are still dissociating or hallucinating as they struggle to heal the worst traumas they experienced in the army in the Middle East. I decided to offer a workshop on how to begin dealing with such difficulties.
This workshop will be divided into four sections:
1. How to make therapy safer and easier to tolerate for all your clients—techniques that will help your client stay more grounded, embodied, and present.
2. How to be the therapist of a profoundly dissociated client. What's your best use of self with such a client?
3. The Ego Strengthening Protocol, final version, because ego strengthening allows for greater presence.
4. The Dissociative Identity Disorder Protocol
INFORMATION:
Date: January 29 and 30, 2022.
Time: 10:00 AM to 4:00 PM Eastern Standard Time
Duration: Six hours per day.
Online meeting on ZOOM APP.
Cost:
Regular price: 250 US$ (After Jan 21, 2022)
Early Registration: Price: 200 US$ (Until Jan 21, 2022)
Prerequisite: Has taken AIT Basics Seminar