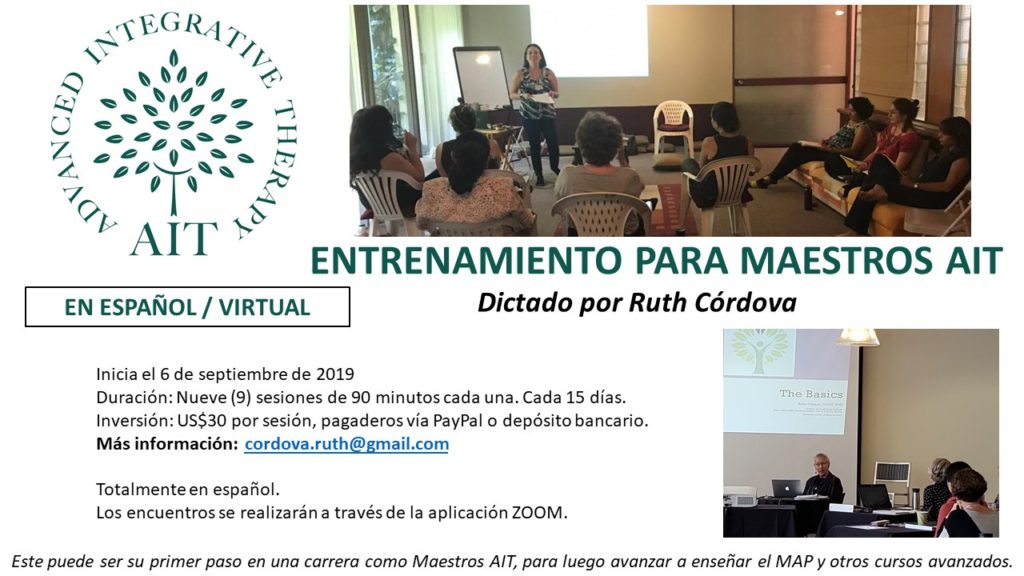 With joy we share that our AIT Teacher Ruth Córdova will be giving the AIT Teacher Training in Spanish, online, starting on September 6, 2019.
The sessions will last approximately 90 minutes and will be every 15 days, with tasks and practice between sessions.
After 8 or 9 sessions, depending on the needs of the group, you will learn to teach the AIT Basic Seminar with confidence and security.
This may be your first step in a career as AIT Teachers, and then move on to teach MAP and other advanced courses.
The investment will be $ 30 (USD) per session, which must be canceled before each meeting through Paypal or bank deposit. We will be connecting through the Zoom platform and you will receive an invitation before each meeting.
For this they need an internet connection, a computer, laptop, tablet or smartphone, and preferably headphones to have a clearer sound.
The connection to the Zoom platform is free for participants.
Do not hesitate to answer this email with doubts, or you can write directly to Ruth Cordova at [email protected]