Description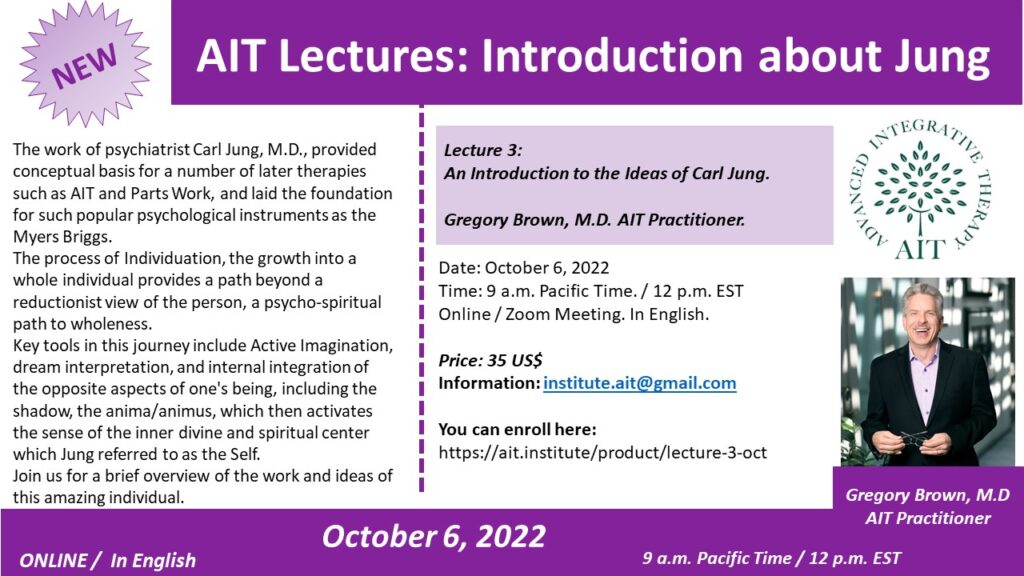 NEW
AIT LECTURES:
An Introduction to the Ideas of Carl Jung.
By: Gregory Brown, M.D. AIT Practitioner.
The work of psychiatrist Carl Jung, M.D., provided conceptual basis for a number of later therapies such as AIT and Parts Work, and laid the foundation for such popular psychological instruments as the Myers Briggs.
The process of Individuation, the growth into a whole individual provides a path beyond a reductionist view of the person, a psycho-spiritual path to wholeness.
Key tools in this journey include Active Imagination, dream interpretation, and internal integration of the opposite aspects of one's being, including the shadow, the anima/animus, which then activates the sense of the inner divine and spiritual center which Jung referred to as the Self.
Join us for a brief overview of the work and ideas of this amazing individual.
Date: October 6, 2022
Time: 9 a.m. Pacific Time. / 12 p.m. EST
ZOOM. In English.