Description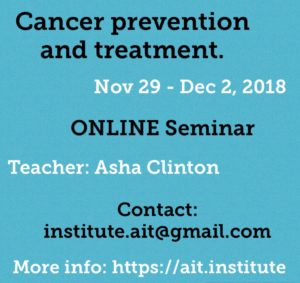 ONLINE SEMINAR
Cancer Prevention and Treatment
New Orleans, LA
Nov 29 – Dec 2, 2018
Teacher: Asha Clinton, MSW, PhD.
AIT Cancer Prevention and Treatment
The newest, most cutting-edge of the AIT seminars, Psychogenic Cancer Work offers adjunctive cancer treatment beginning with the theory that trauma– physical, psychological, and spiritual– is the ultimate cause of cancer. By treating all the relevant forms of trauma and their connection to the development of cancer, AIT can produce improvements in longevity and, even, remission. This 4-day seminar includes the explanation, demonstration, and participant practice of the many protocols it offers. A must for every therapist who has even one client with cancer.